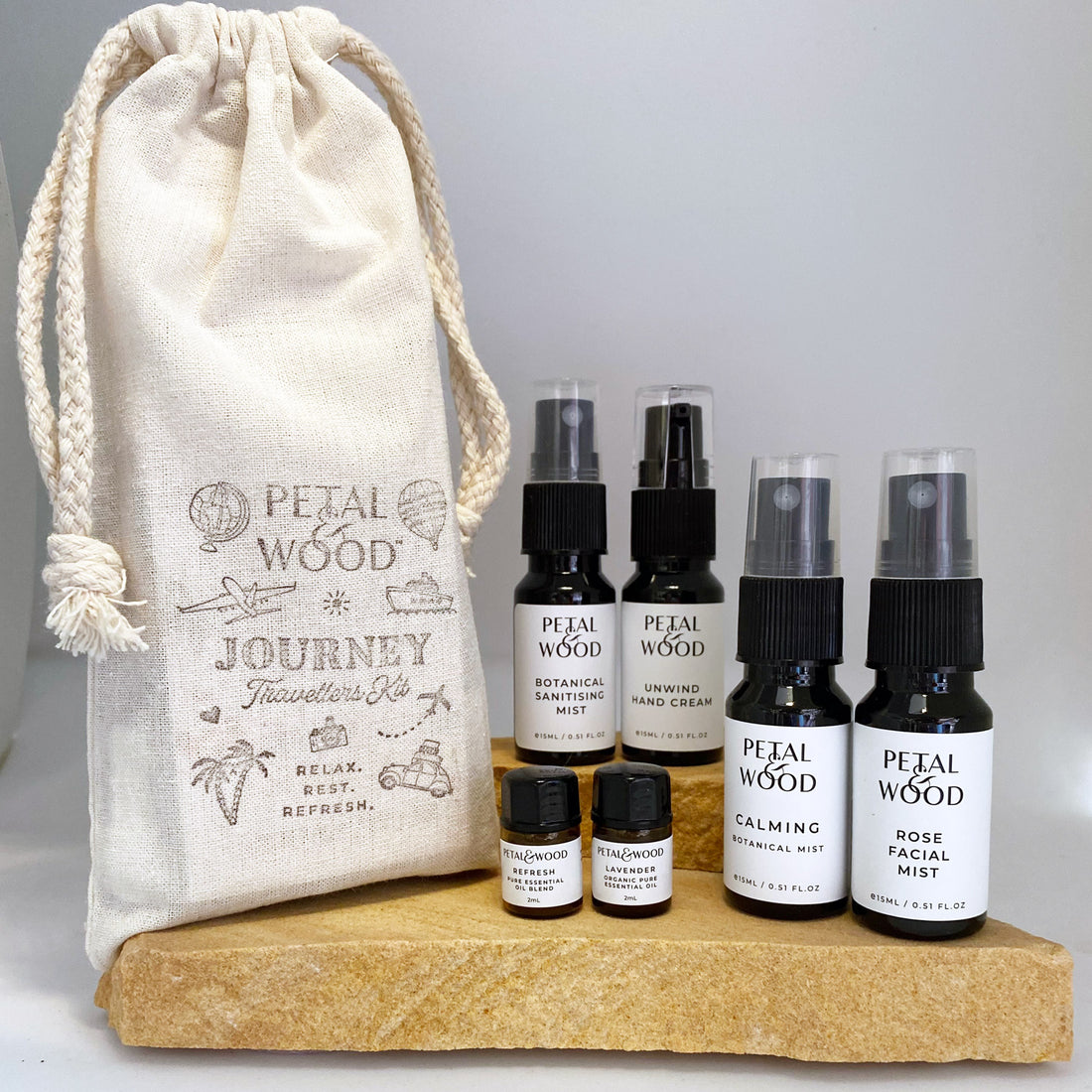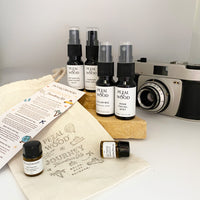 RELAX. REST. REFRESH
The perfect travelling kit to aid in all your adventures whether it be a family road trip, luxury cruise, touring on a bus or jetting off to exotic locations. We have selected our best travel aids to help take all the stress out of travel. 

Arrive calm and refreshed,
ready to take on the world. 
Journey Travellers Kit is conveniently packed in a cute calico bag, ready to be popped into carry on, backpack or handbag. The perfect gift to 
add a touch of comfort and delight to every journey. 

Kit includes:

Botanical Hand Sanitiser 15mL - Freshen and protect your hands on the go. Naturally safe and effective to cleanse hands before eating and after contact with surfaces. Mist over hands and fingers, rub until dry while enjoying the uplifting clean scent.
Ingredients: Tea tree, lemon myrtle, spike lavender, lemon ironbark, lemon, clove bud & red thyme infused into 80% sugar cane alcohol, water & vegetable glycerin.
Unwind Hand Cream 15mL - Relax into your seat and take a moment of self care with Unwind Hand Cream. Allow the soothing scents of lavender & frankincense to help melt away tension and calm your mind.
Ingredients: Lavender and Frankincense infused into hand cream
(purified water, glycerine, sunflower oil, cetearyl alcohol, caprylic/capric triglyceride, almond sweet oil, shea butter, natural vit E, macadamia oil, phenoxyethanol, ceteareth 20, stearic acid, caprylyl glycol, carbomer, dimethicone, sodium hydroxide).

Calming Botanical Mist 15mL - Mist over yourself to aid in feeling happy and relaxed. Close your eyes and slow your breath, inhale the calm scents of sweet orange & neroli to help soothe nervous tension, anxiety and overwhelm.

Ingredients: Aqua, Aloe, symbio®solv XC, Sweet Orange*, Lavender*, Petitgrain, Himalayan Cedar, Geranium, Ylang Ylang, Neroli, Vetiver, Fusel Wheat Bran/ Straw Glycosides, Polyglyceryl-5 Oleate, Sodium Cocoyl Glutamate, Glyceryl Caprylate, Grapefruit Seed Extract.

Rose Facial Mist 15mL - Feel beautiful as the delicate aroma of Bulgarian roses envelops you. Close your eyes, mist your face to experience the soft rose energy transport you to a better day as you refresh, uplift and reconnect. 
Ingredients: Pure rose hydrosol.

Lavender Pure Essential Oil 2mL - Known for its relaxing properties that help soothe the mind and aid in restful sleep. Place 1 drop on a tissue, scarf or pillow and inhale to help calm anxiety, stress and insomnia.

Refresh Pure Essential Oil Blend 2mL - Place 1 drop on a tissue and inhale as needed to revive your spirits during symptoms of tiredness, jetlag or nausea.

Ingredients: Lemon, peppermint, lavender, ginger & spearmint.